Speaker Spike Snow Vehicle Anti-skid Screw, 2021 Chinese Ice Racing Association
If you are not in this trade of hardware, you may not think that this specially customized screw with pointed – Speaker Spike Snow Vehicle Anti-skid Screw can be used in this way. The 2021 China Ice Racing Association ended from 21 to 22 December, so maybe you are looking for a "secret weapon" to solve the problem of anti-skid and complete various car tricks in your country's Ice Racing. Well, read on, please.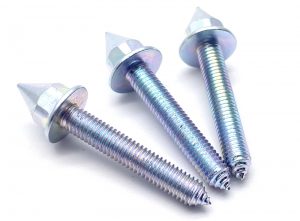 A Customer of Shi Shi Tong sent a kind of screw which was used 7 years by express from Harbin. According to the customer, this type of screw has several disadvantages. The washers are cold-headed to become serrations, and when assembled and used, the car tires are often scratched when turning. Throughout the race, some tires would blow and leak, and the car had to be quit. For a year's preparation, it's all in vain. Moreover, the cars of race drivers and enthusiasts are mostly BMW, Toyota, Mercedes, and other high-end cars. In addition, the teeth of this screw are long and short, leading to the uneven force of some screws, affecting the speed of race drivers.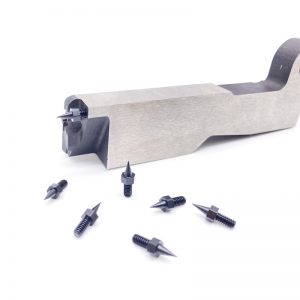 After the improvement of the new Speaker Spike Snow Vehicle Anti-skid Screw, its thin washer of serration is designed as a round gasket, which solves the risk of cutting the tire, and then changes the self-tapping tooth into the machine tooth. The screw after heat treatment is easier to penetrate into the tire than the self-tapping tooth without heat treatment before. And because of the small pitch of the Speaker Spike Snow Vehicle Anti-skid Screw, after dispensing, the car's tires are more closely combined, which can ensure that the tire will not leak during the whole race. The screw's tip position is also adjusted according to different levels of ice and hardness to adjust the height of the tip and the size of the contact point of the tip, which not only meets the normal anti-skid performance but also ensures that the whole event does not have accidents due to air leakage and punctured tires.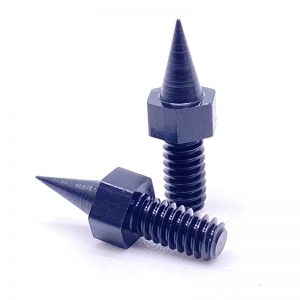 According to the thickness of different tires, we can customize different pointed special-shaped Speaker Spike Snow Vehicle Anti-skid Screw. For more special-shaped screws' customization, please contact us. We will wholeheartedly provide you with design technical support and production cooperation.
Skype: kalyn qin

M: +86 18818786322

Tel: +86 0755-27322278

Add: No. 11, Dinghou Road, Dongfang Community, Songgang Street, Baoan District, Shenzhen, Guangdong, China