What do I need to pay attention to when nylon patch titanium screws m6?
In some titanium screws m6 thread, we can see the blue glue, red glue, yellow glue and other colors. The main function of this glue is to prevent loose, but sometimes when making the surface treatment of glue, you can't get the desired effect without paying attention to it. What should I pay attention to when I use glue?
If titanium screws m6 are to be glued, generally the screw manufacturer needs to ask the customer whether this screw needs to be removed frequently. The screw manufacturer will ask the customer this question, mainly because the point glue is divided into chemical glue and nylon glue.
If the titanium screws need to be removed frequently, nylon glue should be selected. If the screws need not be removed frequently, or if they are not removed after being assembled, chemical glue should be selected. If the chemical adhesive is often disassembled, then the anti-loose performance will be reduced, less than the original so good effect.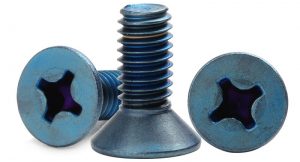 Of course, when some customers do the surface treatment of glue, they will have a tendency to point the brand of glue, which generally requires the customer to inform the screw manufacturer, so that the screw manufacturer can produce titanium screws m6 according to the glue required by the customer.
Skype: kalyn qin

M: +86 18818786322

Tel: +86 0755-27322278

Add: No. 11, Dinghou Road, Dongfang Community, Songgang Street, Baoan District, Shenzhen, Guangdong, China