m8 countersunk socket screw
This year, Shenzhen Shi Shi Tong received a customer from Turkey who said that I want a M8 countersunk socket screw, stainless steel black surface treatment, 10000pcs, he only knows the screw diameter of this screw and the full length of the screw. Other sizes let us recommend .
There are three methods for surface treatment of stainless steel: one is to make environmentally friendly bismuth zinc on the surface of stainless steel screws, but because the adhesion between zinc and stainless steel is not strong, it is easy to appear white when used; one is electrophoresis, The surface of the screw is electrophoresed mainly for quality, the surface effect is good, but the price will be more expensive; one is Dacromet black treatment, compared to electrophoresis, Dacromet's price will be cheaper, the surface treatment effect is better than It is better to plate environmentally friendly zinc and zinc.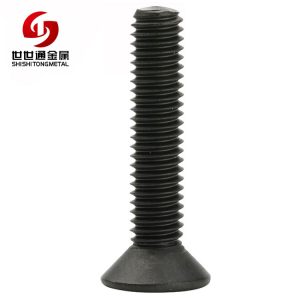 Different head screws have different head angles. The diameter of the head is different. For example, one is 90° and the other is 120°. The head diameters produced by the two angles are different and the price is different. Moreover, the M8 countersunk socket screw is a half thread. If you do not know the length of the half thread and the diameter of the rod (the rod has a large rod and a small rod), the weight of the screw calculated at that time is very different and the price is different. Customers are advised to measure their products and determine the size of these locations. After speaking to the customer, the customer expressed understanding and will quickly determine the size and inform us.
When we don't know the size of the screws, we can send the products you need to install the screws to the screw manufacturer. They can measure the size according to your product and design the shape and size of the head according to your needs. It is for you tailored screws.
Shi shi tong screws can be customized according to customer needs and give reasonable advice and design solutions:  [email protected]
M8 countersunk socket screw