Do you know about stainless steel double head screws?
stainless steel double head screws are used to connect mechanical fixed link functions. Double-headed screws have threads at both ends and the middle screw, either thick or thin, also called double-headed bolts or studs.
The assembly method of stainless steel double head screws is to screw the short end of the thread into the base, pay attention to the screw until near the smooth rod, by adding two nuts in the longer end of the thread. Remove the double nuts and insert them into the cover. Then put the washer on the screw and tighten the nuts. Note that when the double nut is inserted to tighten the thread end of the machine base, the two threaded nuts can only be screwed into the middle of the thread length, using two wrenches. After the screw is tightened, take out the upper and lower nuts one by one with a wrench.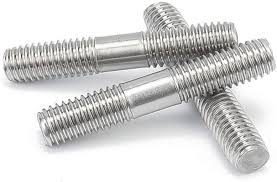 stainless steel double head screws used in the main body for large equipment, the need to install the accessories, such as sight glasses, mechanical seal, deceleration machine frame, etc., this is just used in the double screw, one end of the screw in the main body, at the other end after installed accessories carry nut, because the attachment is often removed, the thread will wear or damage, use double thread replacement will be very convenient. When the thickness of the connecting body is very large and the length of the bolt is very long, the double-headed screw will be used. Used to connect thick plates and inconvenient hexagonal bolt connection, such as concrete roof truss, roof beam suspension monorail beam suspension parts, etc.
Skype: kalyn qin

M: +86 18818786322

Tel: +86 0755-27322278

Add: No. 11, Dinghou Road, Dongfang Community, Songgang Street, Baoan District, Shenzhen, Guangdong, China